43 – Bondage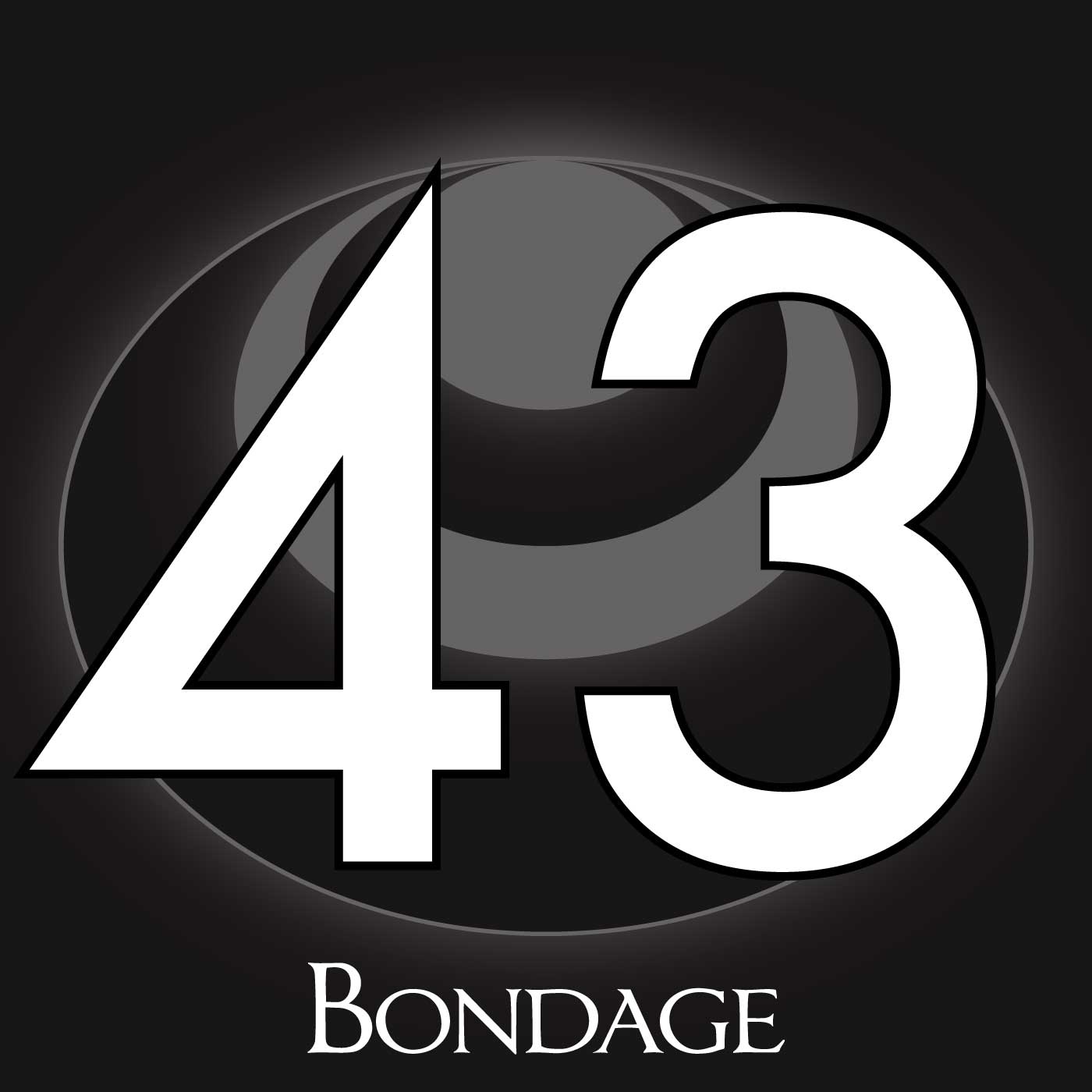 in which Corin is restrained, you smell something burning, the festival of Anti-Celebration begins, preparations are made for Black Friday, progress is made with Kakos Tower, there is news about delicacies coming from Hell, and Kareem Tompkins "wins" the Ruin-A-Life Drawing. Do Evil Better.
What you are about to hear may legally change your gender. We're not sure why, but it seems to keep happening.
Hello, and welcome to the Kakos Industries corporate shareholder announcements. At Kakos Industries, we help you to Do Evil Better. My name is Corin Deeth III, and I am CEO. These announcements are our way of letting you know all that we do on your behalf. You have stock. You have invested in Evil. And it is our responsibility to make good on that investment, and bring the world ever increasing amounts of Evil. These announcements are important because they create a sense of dialogue between you and us, shareholders. And I am fortunate that my captors understand that importance. You see, at the end of the broadcast last time, I was not actually seeing things. There were in fact hooded figures waiting for me to finish my work. They were actually standing there and holding their arms out to me. As for the laughter I was hearing, the jury is still out. These guys are really, really quiet. At present, I am chained to a desk. There is the specification microphone setup in front of me. The cables lead into the wall behind me. I do not know if they are fed into Soundman Steven's booth, but I am confident the broadcast is making its way to you. As far as I can tell, I'm inside of the Kakos Industries building. I do wonder why no one has found me, but I'm sure it is inevitable. Anyway, I'll get back to this in a bit.
I don't know how this broadcast is getting to you. Oh, hold on. They've given me a spec sheet here. It's a drawing of a toaster. Shareholders, I do not have this device in front of me. I have not seen it, nor have I approved it. But I am told that it is there in front of you. I am told it looks like a toaster. Perhaps there is sound coming from the openings in the top. Perhaps there is a knob you can turn if you would like my voice to be a little bit darker. At the end of the broadcast, you may hear a Ding! and then some sort of food item will be made available to you. Will the food item be so delicious that it ruins you for other food, or will it be toxic? I can't say. In fact, I don't know that there will be a food item. I'm really just doing my best to guess what the Division of Radio Transmission is thinking. I can't even see if there's a brand on the toaster, so I can't give you any information that way. Enjoy your toast, shareholders.
The Festival of Anti-Celebration has begun. I'm assuming. I haven't had the opportunity to see evidence of it yet, myself. I am hoping that you have begun singing your anti-celebratory songs and that you have already planned anti-celebratory gatherings. If not, then I hope that you are anti-celebrating in your own way on a daily basis. The holidays are hard. Do not let them get you down. Our staff is having an anti-celebratory gathering soon where they share a nice meal and talk about the things they love taking for granted. Self-awareness isn't important under the circumstances. You're welcome to take this idea or come up with your own. I may or may not be able to take part in the anti-festivities due to my current state of less-than-freedom.
Black Friday is coming up again. I don't have any updates on our involvement this year, unfortunately. I was able to see some of the documents a few days ago, but I don't remember much of what I saw. Let's see… there was something about expecting deaths and sensational headlines. There was something about making a lot of money off of hysteria. Oh, I remember something important. We're moving into full scale production on our Black Friday Baton, which is an easily concealed weapon that will allow our customers to beat their way to the front of the line, and rack up as much violence as possible before this orgiastic capitalist bloodbath winds down. You should look for yours in every department store. They're not cheap, and they won't be on sale, but they will pay for themselves many times over, provided you're willing to get your hands dirty. I also remember seeing people camping out in front of our main branch already. We don't actually sell anything out of the main branch, so I'm not sure what they're after, but they are there all the same. Perhaps our employee housing initiative has failed. We may need to move them into the dormitories. Or we may need to sell them something, I suppose.
Let me give you some more details about my situation here. I was captured, as you remember at the end of the last broadcast. Large hooded figures grabbed me, covered my head, and dragged me away. I quickly lost my bearings, but I am fairly sure that we did not leave the building at any point. I didn't recognize the room, but having familiarity with the architecture here, I wasn't surprised. When the bag was removed from my head, I found myself chained to a wall. The large figures in the hooded cloaks began to beat on me. I was punched and kicked and stomped. My blood began to mix with whatever mysterious moisture was on the floor. Then, a smaller hooded figure burst through the door and angrily gestured at the larger hooded figures until they left the room. I can't be certain, but I believe that this smaller hooded figure may have been the one to punch me in the stomach a while back. He's here now, too. Just watching me. Anyway, the smaller hooded figure began to wash me with a sponge and a bucket of soapy water. At first, I thought that I was being given some sort of mercy. Then, the small hooded figure began to pour copious amounts of disinfectant into my wounds. When I was clean and dry, the smaller hooded figure presented me with a document asking me if I consented to the beating I had received. I had already received the beating, so I thought "what the hell" and signed the document. This seemed to please the hooded figure. Then he produced yet another document asking me to sign control of Kakos Industries over to an unnamed entity. I said, "I can't." The hooded figure seemed disappointed. Then the hooded figure presented me with another document. At the top, it read, "You will be our captive regardless of whether or not you sign this document, but if you give consent, we will perform the following actions on you." Shareholders, I've been through torture. I've been kidnapped before. All of that is part of ascending to the role of CEO. My will was taken within an inch of being broken. I was subjected to things that we have rules against doing to the general populace. The company needed to know that I had the strength of character to be at its helm. At any rate, none of those terrible things were on this list. At first, I laughed aloud and threw the forms away. Consent? I was a captive. I consented to the beating after the fact, after all. The small hooded man just sat there in a folding chair and watched. Quietly. Then, I grew impatient. You see, I don't much like sitting still. As CEO, there are always things I can be doing. And I do have my hobbies. In my frustration, I decided that anything would be better than sitting around chained to a wall, so I slid the papers back my feet, and I affirmed my consent. I probably should have read the list more carefully. The first item was "tied too tightly". Is that torture? I'm really not familiar. Anyway, the smaller hooded figure began to tie me up using intricate knots and pulling all of them until they cut off some circulation. The figure began to hesitate as he placed ropes near my pelvis and groin. I was so bored at this point that I was hoping for anything interesting to happen at all. That's when one of the larger hooded figures came back into the room. The smaller hooded figure looked startled by this turn of events and then he joined the larger hooded figure outside of the room. A few minutes later, he came back with a large knife. He held it to my throat threateningly. Finally, we were getting somewhere interesting. I don't bargain for my life, shareholders. People know who I am, and they know what I have available to me, and they pretty much make their demands with that knowledge. If they really wanted to kill me, then I'm not sure how I would even begin to dissuade them. I could feel his breath on my face. It smelled of garlic and tomatoes and ham. I wasn't scared. Then, he used the knife to cut me loose from my various bonds. I was still chained to the wall, though. The smaller hooded figure went back outside for another few minutes before two of the larger hooded figures came back to drag me out of the room and take me back to the parts of the main branch I'm familiar with. It was almost time for me to be back at work, so I headed to my office. I didn't make it all the way there before they captured me again. More on that in a moment.
I was told a few days ago that progress was being made on yet another floor of Kakos Tower. I am told that during the clean up, the engineers discovered a scene frozen in time. One frozen researcher spilled a green slime of some sort, while another looked on in horror. Perhaps this is the moment that caused the preserving liquids to encase the building. We're going to leave the green slime encased in the liquid for now. We don't know what it could be. Maybe it was pea soup or something.
The first time I was released from captivity, I overheard a conversation about Hell. I might as well report it as though it was told directly to me. Nothing could be wrong with that. Anyway, the death toll for the settlers is rising, but some people are managing to form settlements and survive. They've carved into the walls to create fortress-like encampments. They've grown adventurous in terms of eating the wildlife down there. New fruits, vegetables, meats, and what I'm told is called "eatin' slime". I am curious, but I think I can happily live out the rest of my days not knowing what "eatin' slime" tastes like. The other foods, of course, we will test and see if there is some way we can market them to increase Evil world wide. There is nothing down there that is not born of Evil, shareholders. Whatever we find will no doubt have some adaptation or abnormality that makes it exceptionally Evil. The question is only whether or not those things will be new. We recently had a committee to decide what to call some of the new things discovered down there. We decided that "Hand Jobs" and "High Fives" were stupid names for the many-handed monsters, so we arrived at something much less exciting. We call them Handlers, now. We named a bunch of the creatures down there, but I can't remember any of the others. If I had my notes, this would be a lot easier.
As I hinted at a bit earlier, I've been captured a couple of times now. Each time, I am un-hooded in a different room and I have in front of me a new consent form sitting beside paperwork to yield control of the company. The second time I was captured, I found myself face to faceless shadow with this smaller hooded figure. I tossed aside the documents asking me to yield control. The release asked me if I was okay with some groping and fondling. Why not, I thought. I had some time to kill. The smaller hooded figure began to attach a seemingly endless number of clothespins to my body. It really wasn't all that torturous. My captor seemed to enjoy the subtle detailed work, but I was bored, and made it known. At this point, another larger hooded figure entered the room. He barked something in a language I didn't understand. It was the first time I had heard any of them speak. The smaller hooded figure did not respond, but left the room to continue the discussion. He came back with an axe. He then proceed to destroy several boxes and pieces of furniture with the axe before undoing my bonds and releasing me. I took a quick bathroom break, and, on cue, the larger hooded figures were waiting for me again outside. Upon coming to rest in the new room, I tossed aside the forms to yield control of Kakos Industries, and I signed the consent form to whatever new torture my captors had imagined. I was instructed through a written note to place my hands and forearms on the table and to keep my legs straight, with my ass in the air. My captor produced a paddle. Then he seemed to contemplate the paddle for a moment. He raised the paddle behind me. I gave him one of those "What do you think you're gonna do with that" looks because I know how to be a good guest and play along, okay? He seemed to contemplate his choices again. I mean, I couldn't see his face, so I'm guessing at the emotions here. He finally decided on one of the most literally half-assed pats I've ever been party to. I laughed again. I mean, it takes a little more than that to get a rise out of me. One of the larger hooded figures came into the room once again, and that's when the smaller hooded figure found the courage to hit me with some force, eventually splitting the wood in the handle. It's still a little hard for me to sit down. After this effort, my captor was winded, and I think the extent of his actions began to weigh on him. Still guessing there. You see, the cloak is so big and thick that I wasn't even able to determine any physical characteristics from the times he bumped into me. He huddled in the corner after releasing my bonds and then waved me off. I knocked on the door and the guards escorted me back to my office. I had time to read one email, and of course it was a totally pointless one (thanks, Pam), before I was face to hooded shadow with these figures again. I didn't even fight. I was just hoping that something interesting would happen. When I was brought into the new room, I tossed the form asking me to yield control of Kakos Industries, and I had another consent document indicating that I should "take off all clothing items affixed to my person". I know the wording because I was supplied with a copy for my records. I did so. I'm not sure I've ever seen a shadow blush before. My captor crossed his arms tightly across his chest. He then extended a tremulous hand holding a piece of paper that said "now sit in the chair." I followed instructions. My captor sat a couple of yards away from me and produced a remote control of some sort. He turned a knob, and the chair beneath me began to vibrate. I don't want to get too detailed here, but for the next several hours, my captor engaged in an internal struggle with what appeared to be guilt that manifested as frequently changing levels of vibration that kept me from getting anywhere meaningful. Losing the battle once and for all, the smaller hooded figure turned off the device and bolted from the room. I was released again, and for a whole half-hour this time. I managed to finish the job my captor had started on my own, and then eat something other than the various soups they were providing me there. Other employees at Kakos Industries looked at me in shock in the employee lunch room. It was probably a combination of me not changing my clothes in a week, and also the news of my various disappearances. I was then grabbed again. Finding myself in yet another room with another contract asking me to give over the job of CEO and also another consent form several pages long this time, I tossed aside the CEO nonsense, and signed the release. I skimmed it for mentions of Kakos Industries first. The hooded figure placed a blindfold in my lap. I let out an exasperated sigh and put on the blindfold. "What now," I challenged. Then, surprisingly, my captor kissed me. "You kiss like a girl," I said. Then, I felt the blade at my throat again. He drew some blood that time. Then I was hung from the ceiling by my hands for what amounted to a pretty okay beating. They allowed me to get treatment for what was likely a broken rib before capturing me again. Then there was some weird head touching. Then I was released, and then recaptured. Then the smaller hooded figure fell asleep with his head in my lap. Then I was released. Then I was captured and slapped a little. Then a lot. Then I was released. And recaptured. Then I was waxed. Everywhere. Then I was released again and recaptured. Again. Then I may have been given a tattoo. I haven't been able to look at it in a mirror yet. Then I was released and captured once more. Each time a new document asking for control of Kakos Industries, and each time a new consent form to whatever my punishment was for not signing the first. It was exhausting, but I do have to say that the capture-release-recapture technique really broke up the monotony of regular captivity. It might be something we should look into, assuming that I ever have the opportunity to get back to work.
My captor has just placed a piece of paper on the table. It says that Kareem Tompkins has won this week's Ruin-A-Life Drawing. Kareem has selected "a goose from the park he likes to go to." Well, there's no reason why we can't do that, I guess. The Wheel of Misery was turned, I'm assuming, and the result was Gluten Intolerance. It says here that the goose in question will be given gluten intolerance, so he will never be able to enjoy bread thrown by park-goers ever again. I was personally hoping for gavage, but I suppose that would kill the goose. Oh, wait. It says here that Kareem Tompkins will be force fed periodically for good measure. Ah, that is some delectable irony. I approve. What about Things We're Taking Credit for Now? I see the numbers. We're not there yet. Fine. We're taking credit for super lame kidnappings. That's bad enough that I don't need three things. So there.
Anyway, here are the numbers.
11
27
39
77
4
56
1,003
44
2
I've been handed another form asking me to consent to "Earth Shattering Revelations." I'll just put my mark on here. Why not. Oh. He's taking off his hood. Oh, you're – you're not a man. But I don't recognize you… unless… shit.
Kakos Industries is written and produced by Conrad Miszuk, who is also the voice of Corin Deeth. The music is also composed by Conrad Miszuk. The introduction is read by Kim Aiello, and the credits are read by Hanna Jones, who is currently hunting unicorns. Check out KakosIndustries.com for more episodes. There's also transcriptions if you'd rather read the Kakos Industries announcements. That's K-A-K-O-S-I-N-D-U-S-T-R-I-E-S dot com. Please check out store.KakosIndustries.com for merchandise and special offers. Questions, comments, or a strong desire to collaborate? Drop us a line at inquiries@kakosindustries.com. If you like Kakos Industries, be sure to rate and review us on your favorite podcasting service, and connect with us on Facebook (facebook.com/kakosindustries), Tumblr (kakosindustries.tumblr.com), and Twitter (@KakosIndustries).
If you're feeling down after this broadcast, have you considered frequency modulation synthesis?
Right… um… what's frequency modulation synthesis?
Is it one of the things you do on your computer?
(yes)
Okay.