17 – New Memories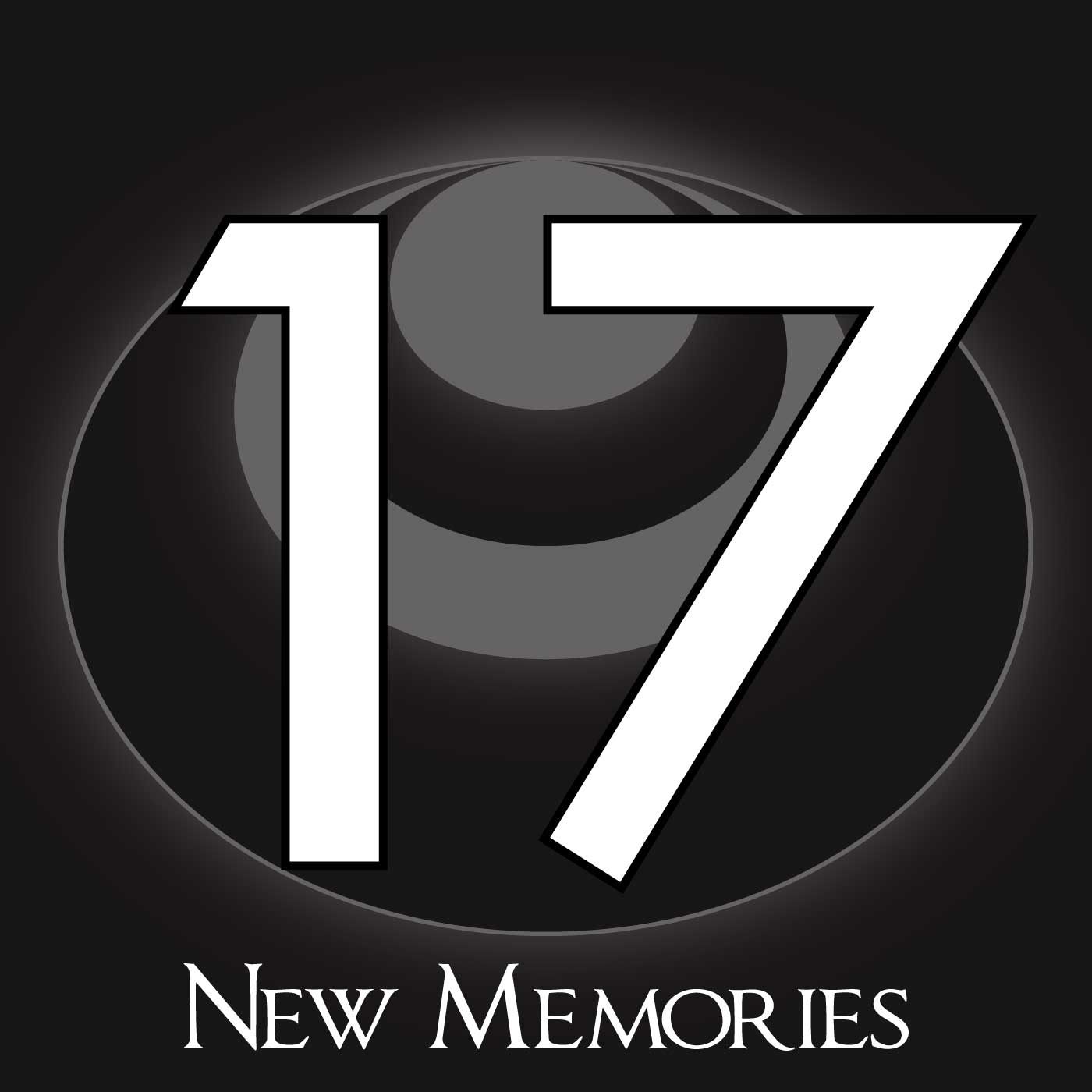 in which the Guild of Transmission is discussed, we get news about Helena, the sentient security system, and Hailey Solomonari, the Celebration of Books is recapped, preparations are made for a quiet, peaceful evening on Halloween, the Sexual Innovation Division begins an effort to round up their most recent mistake, and Olga Carolla "wins" the Ruin-A-Life drawing. Do Evil Better.
Transcript: What you are about to hear may echo inside of your skull for centuries.
Hello, and welcome to the Kakos Industries Corporate Shareholder announcements. At Kakos Industries, we help you to Do Evil Better. My name is Corin Deeth III, and I am CEO of Kakos Industries. It's not an easy job, but someone has to do it. And that someone is me. No one else is capable of doing this job. We've checked to make sure. I don't want to brag, but when it comes to Evil, you guys are a bunch of weenies out there. Sure, you can stomach the announcements, and you might even be able to handle working for us, or one of our clients, but you cannot even begin to imagine what it's like to do my job. The announcements are actually the easiest thing that I do all month. I don't even want to tell you how many monsters and failed experiments I had to put down today before my first glass of DarkMegaGreenTea and my morning meditation. I don't think I need to tell you how difficult it is to quiet the mind when you've just slaughtered a beast whose cries were engineered to reverberate through one's subconscious. Next time, Division of Screams and Yelps, you will have to clean up your own mess.
Today's broadcast is coming to you from what feels like a really old memory that suddenly just made sense. Kakos Industries, in the Division of Memory Manipulation, Mind Wiping, and Beat Repeating has been working long and hard on planting thoughts and media files into the human memory. No, this memory isn't old. Technically, it isn't live either. It was placed deep where it wouldn't be forgotten so easily, and where remembering it would trigger the fondest nostalgia. We may have needed to erase something from around the same time period, say when you were five or six years old, in order to make room, but I can assure you we did this completely at random, so it's just as likely to have been a good memory as a bad one. For some of you, this is a change for the better. For others… well, you can't remember what you've lost anyway. I will say that if you find you have the first half of a memory, or perhaps the last half of a memory after this broadcast, then we are likely responsible. And do not try to finish the memory. What was there is gone forever, and any attempt to get it back will result only in your brain making shit up.
It is often difficult for us here at Kakos Industries to know just how many shareholders we have. You would think that there is some ledger that has everyone's names, addresses, phone numbers, etc. But alas, there is not. There is perhaps no fact about Kakos industries that is quite as frustrating for me. Sure we have plenty of ledgers, and we have plenty of names and addresses, but not one of them is The Ledger with all the names and addresses. This is mostly because shares in this company are given out like candy. We've given out shares on the back of business cards, on restaurant napkins, in permanent marker on youthful anatomy, in pill form, in the form of an injection, and even as a bite from a raging animal. This might lead you out there to wonder what really separates a Kakos Industries Shareholder from anyone else. Surely, if we don't know that you are shareholders, how can we send you radios? How can we give out profits to the deserving? Well, the answer is a simple one. While everyone on this planet is involved with our business to some extent, those of you with a real stake in the company have… how shall I put this… an odor. It is not one that humans can detect. Even my palate, which has been trained and honed for years to detect Evil, cannot detect this aroma. So you might be asking yourselves how we can detect this smell, and subsequently how we can contact all of you when the time is right. This, as it turns out, is the responsibility of the Guild of Transmission. The Guild of Transmission can detect these malodors, and then deliver the radios, install new teeth, or implant strange old memories. I am not entirely sure what the Guild of Transmission is, or who embodies it, but the leading theory put together from traces of old Kakos Industries logs seems to indicate that the Guild of Transmission is a society of humanoid swine. It is uncertain at this time whether they are the product of a lengthy breeding process, some early genetic manipulation, an accident of some sort, or maybe just some old-fashioned backwoods interspecies copulation. At any rate, I am told that they don their black robes at an early age, and the females of the species are capable of detecting the smells of Evil because those smells are similar to the sex pheromones of the males. The Guild of Transmission is exceedingly good at the work that they do, but I have had reports of isolated incidents where stray oinking was heard, and at least one case of a shareholder waking up to a guild member pleasing herself noisily in his bedroom after a successful delivery. In exchange for all that they do for us, the Guild of Transmission only requests that we share our failed experiments, our ideas gone wrong, and also the literal table scraps of Kakos Industries, as well as a sum of money. We used to give them cash, but after certain suspicions arose, we switched to writing them checks. The Division of Accounting has told me that not a single check has been cashed or deposited. Perhaps they do not know how to use banks, or perhaps they only ever asked for money to secure a little humanity that is otherwise denied to the porcine.
Speaking of the Division of Accounting, some of you who weren't completely stoned last time might remember that an automated security system here at Kakos Industries killed all of our accountants, and was about to kill all of our clowns and mimes in the Division of Mimes and Clowns, and our highly trained professionals in the Division of Incredibly Boring Things, before I stepped in and saved the day. The security system – I call her Helena now – has been once again reset to watch the narrowest of openings in the Kakos Industries facility, and her other "needs" have been taken care of by the Division of Sex Work, which is the division that specializes in making sex feel like work. Hopefully, that will be the last we hear of her. Also, some of you may remember Hailey Solomonari, the ambitious daughter of one of the board members here at Kakos Industries. I gave her a choice of punishments after she so blatantly used me for her own gain, and she enthusiastically selected to be sent to the Bondage Purgatory, hosted by the Division of Domination. I have a report here that says that, regrettably, she is making surprising progress through the 66 challenges, having completed more than forty of them so far, and I am quoting here: "Her experiences in the Bondage Purgatory have been less like a punishment and more like a summer camp. Truly, she would be a star member of the team in the Division of Domination were she to choose that route, but with so much raw sexual potential, she is likely to aim higher. Much higher." That is… delightful news. Her mother, my coworker, Iele Solomonari, has been what I can only describe as smug around the office, but at least she has eased up on making the board meetings quite so painful. I will say this: Hailey, you are not out of the Bondage Purgatory yet… and when you are, we should have a chat.
Recently, we had the Celebration of Books. A lot of you came down to the headquarters here and picked up a rare and/or dusty tome, found a comfortable spot, and began to scan the pages. It was a quiet and contemplative sort of thing. It wasn't long, however before the DarkMegarotica and Ultra Erotica were discovered. It is a common misconception that the more outgoing members of our society are the freaky ones, with the hot and sweaty dance parties, the drugs, and the indiscriminate lovemaking. The truth is that these introverted, bookish nerds were dirtier, hornier, and downright nastier than all of that before the celebration was over. The sexual groupings were larger and more inclusive, the knowledge of their bodies was overall higher, and the stimulation of the largest erogenous zone, that is to say the brain, was much, much deeper. And these actions were taken soberly, and with great excitement. The level of satisfaction I witnessed was overall much higher as well. The post-orgasmic cuddle-bliss that occurred after the peak of the sexual interaction was adorable, though I would like to emphasize that it was definitely not a part of the celebration and was thoroughly discouraged. I can handle seeing human bodies intertwined in any number of possible variations so long as the intent is sexual, but all of this snuggling… it's just unseemly.
As you probably know by now, Halloween is approaching. For those of you who are new shareholders, you are probably wondering what we, Kakos Industries, the industry experts in Evil, are going to do on a holiday that is so dedicated to mischief, horror, and mayhem already. The answer is simple. We take the day off. Everyone else has it covered, so what do we really have to gain from putting out any effort at all? I'm just kidding, our Halloween party is going to blow your fucking mind, son! It's gonna bundle up all that scary, sexy, dark, and evil, wrap it in a cosmic mind-tortilla, and blast it off into goddamn space. Guess what, that obscure, cerebral costume you've been working on? Everyone's going to get it. And they're going to think it's hot. That sexy off the shelf costume you picked up? It's going to be even sexier. Everyone is sexier when they come to this party. It's in the air, the water, and the candy. Chemicals that make you sexier. We got 'em. Forget the costumes, even. You'll be so goddamn sexy that people will be honored just to look at your shimmery-goddamn-glimmering naked self. And the alcohol is special alcohol that only makes things fun. It has no bad effects. No one gets sick, everyone just gets awesome. Drink all you want and just have more fun. That's what it's all about. Want some haunted house? Take a stroll through our building. We're not actually going to decorate, but it'll scare the shit out of you anyway. And the sex will be amazing. No one gets diseases or pregnancies at the Kakos Industries Halloween party. Are you already pregnant and afraid of how it will make your costume look or that you might not be able to enjoy all of the fun booze? We have machines that will take that thing out of you and keep it safe while you party your fucking ass off. Do you need to be pregnant for your costume to work? Borrow someone else's fetus. We got that machine too! We can do it to dudes, too! You wanna be Zeus? We'll put a baby in your fucking thigh! The music will be simple enough to entertain you blissful dumbshits out there, with enough intelligence sprinkled on top that no one is left out. Everyone gets their own Japanese woman dressed as a schoolgirl. That goes for men, women, people who opted not to check a box on our surveys, and even the Japanese women dressed as schoolgirls. We'll figure out how to make that work. This party is going to be insane! Make sure your health insurance is in order because someone might just eat a piece of you and make you like it. This section of the Kakos Industries announcements was underwritten by the Division of Halloween Festivities. They spend all year just getting ready for this one party.
I have news from the Division of Discouragement. It seems that they have developed a new program similar to those that pair at-risk teens with adults to provide guidance. The difference is that this program takes adults and pairs them up with other adults that most closely resemble what those first adults as children thought they would be when they grew up. The fast food chef will be paired up with the successful novelist. The used car salesperson will be paired up with the actor. The exotic dancer will be paired up with the professional member of the chorus line. The goal is to give people a glimpse of what their lives would look like if they had taken that leap so many years ago, and to remind them how far from achieving their dreams they really are. But have no fear, shareholders. You can always start that podcast.
It's been a little while since we've heard from the Sexual Innovation Division. As you may remember, their efforts to make a female arousal cream resulted in a certain portion of the test subjects becoming gargantuan mustachioed douchebags. They seem to have escaped from the lab and they have been wandering freely throughout the building here at Kakos Industries. These sexually aggressive and generally sexually unwanted females with their thick Nietzschean lip hair have been harassing, cornering, and scaring the men of the office seemingly at random and with no plan for eventual success of any kind. They are terrorists, and they have pushed the men here at the main branch deep into their shells. I am not a small man, shareholders, but I found myself cornered while working late one night. Even my most direct expressions of disinterest were met with more pick up lines and more unwarranted confidence. I was able to break away from the situation, but clearly this is a menace that needs to stop. I have given the Sexual Innovation Division another chance to come up with a meaningful advancement in the realm of sexual Evil, but only if they can catch all of these lady-douches first. And please, ladies, stop sending me pictures of your vulvas.
Evil is like carbon. It bonds with itself and with everything else in so many ways that it is basically ubiquitous. This is Things We're Taking Credit for Now. You might remember that we also have a section called Things We're Taking Responsibility for Now, which is different, and has been temporarily discontinued because we have been inundated with requests to take responsibility for things – I mean we've been inundated with reminders of all of the terrible things we've done. Anyway, this isn't that segment. This is Things We're Taking Credit for Now. It's a completely different segment and I don't know about you, but I like it better. Anyway, here goes. This week, we're taking credit for noisy neighbor kids, road work, and governmental spying programs. If you happen to disagree with anything we've taken credit for, then this memory will self-destruct in thirty seconds. I'm not exactly sure what that means, but the Division of Memory Manipulation, Mind Wiping, and Beat Repeating has written me a note reading "They should be scared", and it is underlined several times.
The winner of this week's Ruin-A-Life Drawing is Olga Carolla. As a result, the life of her nemesis, Carl Marlow, will take a dramatic turn for the worse. The Wheel of Misery has turned and turned and turned and arrived at the surprising conclusion that Carl Marlow's greatest desire should be granted. As we all know, dreams are a double edged blade, so hopefully Carl's greatest desire will be his own personal hell also. We don't know what it is yet, so we'll have to get back to you. For good measure, Olga Carolla will have one of her worst nightmares come true at some point. It will be brief and feel like a nightmare, but it will also be real, and hopefully she'll come out of it a stronger person. Best of luck, and congratulations.
This brings us to the end of the broadcast. In no time at all, this memory will begin to fade, though your memory of having had this memory will persist for some time. In its wake, we expect your subconscious to make up a whole bunch of shit. We hope that the details will be interesting, though they will more than likely take a turn for the traumatic. It's a bit like regression therapy. Coming up are the numbers. Please be careful not to remember them too clearly. Vaguely is fine, but remembering them too clearly, or too sharply, may result in actual cuts in your brain. We're getting pretty good at this "turning thoughts into physical things in your head" thing.
0
0
0
0
2
0
0
0
0
0
2
Kakos Industries is written and produced by Conrad Miszuk, who is also the voice of Corin Deeth. The music is also composed by Conrad Miszuk. The introduction is read by Kim Aiello, and the credits are read by Hanna Jones, who has compiled a list of the top ten most mind-blowing minerals. Check out KakosIndustries.com for more episodes. There's also transcriptions if you'd rather read the Kakos Industries announcements. That's K-A-K-O-S-I-N-D-U-S-T-R-I-E-S dot com. Questions, comments, or a strong desire to collaborate? Drop us a line at inquiries@kakosindustries.com. That's I-N-Q-U-I-R-I-E-S @ K-A-K-O-S-I-N-D-U-S-T- R-I-E-S dot com. If you like Kakos Industries, be sure to rate and review us on iTunes and Stitcher, and like us on Facebook.
If you're feeling down after this broadcast, have you considered just freaking the fuck out?